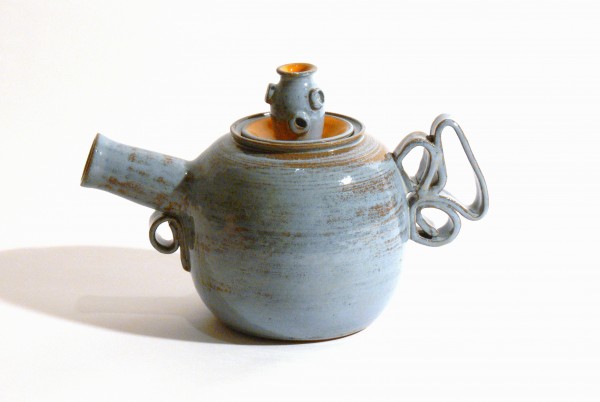 By Aislinn Sarnacki, BDN Staff
Posted July 11, 2011, at 7:48 p.m.
(Scroll to read.)
Legends of the teapot's origin are aplenty. Some of the earliest teapots are said to have been made by Chinese potters of the Sung Dynasty (969-1279). Some references claim it was later, during the Ming Dynasty (1368-1644). The pots were—and they still are—made of zisha, or "purple" clay, of the YiXing region of China.

Like any good invention, the teapot spread throughout the world over the years, and potters in Japan, Egypt, Greece and Germany tried their hands at producing the tricky shape out of a number of different materials. Often, the tradition of tea is now associated with England, where "tea time" in mid-afternoon is a part of many people's daily life.

It's in London that Jemma Gascoine of Blanchard Township first took ceramic classes and discovered her passion for throwing clay. Now, 12 years later, she's organizing her second ceramic "Teapot" show, running through July 31 at Lake Hebron Artisans gallery in Monson.

"Making teapots is … one of the greatest challenges a potter can take on," wrote Don Davis in his book "Wheel-Thrown Ceramics."

Gascoine asked artists Natalie Gardner of Golden Apple Pottery in Palermo and Simon van der Ven of Lincolnville to join her in exhibiting their teapots. All three of the central Maine artists craft their work in their studios using a potter's wheel. In addition, Hermon Middle School seventh grader Shelby Pyrz contributed a handcrafted clay teapot that doubles as a small brown bear, a whimsical addition to the exhibit.

Gascoine helped found Lake Hebron Artisans 10 years ago as a nonprofit sales venue for finely crafted Maine art and gifts. Gascoine's work is shown at several galleries, and this year, she will take part in the the Center for Maine Contemporary Art's "Work of the Hand." She also will prepare for her 2012 exhibit at the University of Maine Museum of Art in Bangor.

She organized "Teapot II" after her first "Teapot" show drew so much interest last year.

"It's marvelous to work with your hands and make something that's satisfying to touch," Gascoine said. "As our lives become more virtual, there is something very reassuring and quite grounding about working with the stuff from old river beds, stuff that has been utilized by people for vessels for thousands of years."

To branch out from the traditional teapot, Gascoine decided to shoot for humorous, funky shapes, a functional vessel that would showcase her personal style. Her two teapots are pieced together with an unconventional shape for a spout or a handle that looks like an organic tangle of clay. The glaze, like on much of her work, is bold and colorful.

Gascoine enjoys the tension between function and form when it comes to teapot making. Many contemporary teapots cannot be used to brew or pour tea, they simply suggest the form of a functional teapot with its respective pieces: a base, body, spout, lid and handle. Gascoine makes both functional and nonfunctional teapots because she is generally more concerned with form, the sculptural aspect of her work. Van der Ven and Gardner, on the other hand, consider the function — the ability to pour tea smoothly — to be an integral part of a successful teapot.

Van der Ven came to pottery through his 17 years as an arts educator at Camden Hills Regional High School and University College at Rockland.

"I didn't start doing clay until I was actually teaching it" said Van der Ven, explaining that the students at Camden Regional High School asked him to work with clay and use the school's kiln. "I did handwork for a long time, and it took me a while to learn how to throw, but once I learned how to throw, a teapot was one of those challenges I couldn't deny."

He earned a master of fine arts degree in studio art at Maine College of Art, and now works with many materials, such as porcelain and stone, to create sculptural and functional pieces. This year, he has an exhibit at Aarhus Gallery in Belfast and also is being shown in Islesboro, Rockland, Tampa, Fla., and Kansas City.

"Basically, if I see a teapot I like, I look at it and break it down and see how it's made — then take a little detail from it and store it away in my library," he said.

Several times a year, he fires clay with fellow potter Jody Johnstone in her homemade fire kiln in Swanville, which can hold 800-900 pots at a time. Two of the three teapots he has in the "Teapot II" show were fired in the kiln, which reaches 2,350 degrees.

The two different glazes he used on the teapots worked with the natural atmosphere of the kiln, full of ash from 6.5 quarts of wood. In one glaze, the ash formed a line across the middle of the teapot, a beautiful detail that looks as if it has been painstakingly added by the potter. On the second teapot, he coated with a brown slip he calls "the Searsmont Slip" because it is made of Maine clay.

"The thing that's most important to me is that everything comes together," he said. "That its weight corresponds to the way it looks…and the feel in the hand when it has tea in it has to feel good. The pot has to be balanced and it has to pour properly. If the handle balance isn't just right, oh well; that goes into the house, the repository for factory seconds. It's having all the elements come together that's the challenge of the teapot—and the strength of the teapot."

Gardner studied with well-known Japanese potter Makoto Yabe. Customers often comment on the Asian feeling of her tableware and decorative, yet always functional, pottery.

By the 15th century, people from both Chinese and Japanese cultures were drinking tea for ceremonial purposes, whereas before, it was solely drank for medicinal purposes. Teapots detailed with themes from nature or sutras were desirable, and YiXing pots became prized as creative works. The Japanese brought in Chinese artists to teach them potting methods, and developed new techniques for creating teapots as Bizen Province became an important center for Japanese ceramics.

"I pay most attention to the sculptural aspect — the negative and positive space — how it looks when it sits on a shelf. My goal is for people to walk by a piece and take a second glance because the form is attractive," she said.

Though Gardner has been working at the wheel for 20 years, she has been making teapots for only the past three or four years, and she already has made well over 50. In fact, a fellow member of the Maine Arts Commission calls her "Teapot Natalie," which she finds amusing.

"My family comes from a long tradition of tea drinkers," she said. "As a kid, we always have tea in the afternoon. My sister always said, 'If you're happy, have a cup of tea. If you're not happy, have a cup of tea. If you're having a bad day, have a cup of tea. And if you're having a good day, have a cup of tea.'"

During Monson's Summer Festival Celebrations on July 16, tea will be served 10 a.m.– noon at the Lake Hebron Artisans gallery at 15 Tenney Hill Road, at the corner of Main Street in Monson. All three artists will be there. The gallery is open 9 a.m. – 4 p.m. Thursday – Saturday. The exhibit also can be seen through the window. To see examples of contemporary teapots, check out "500 Teapots: Contemporary Explorations of a Timeless Design," available at the Bangor Public Library.
Click here for orginal article printed on May 17, 2012.