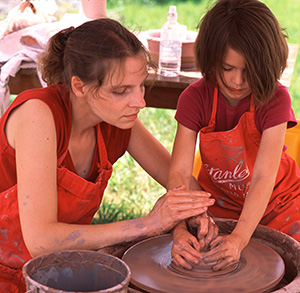 POTTERY WORKSHOPS
Pottery is great fun for all ages. I have three potter's wheels and two electric kilns at my studio in Blanchard. A minimum of two classes is necessary in order to finish and take home a piece of work. In the first class, the clay form is created. The clay then needs at least two days to dry before it can be fired in the kiln, which takes at least 20 hours. In the next class, the piece can be glazed. It takes another 22 hours to fire in the kiln before it is ready to be taken home.
One 90 minute workshop using potterwheels costs:
$35 for one person
$40 for two people
$45 for three people
Throwing clay can be messy so please wear sensible clothing and tie long hair back.
All workshop participants must clean up their workstation.
To book a workshop or for further information, please e-mail jemma@jemmagascoine.com or call 207 997 3699.