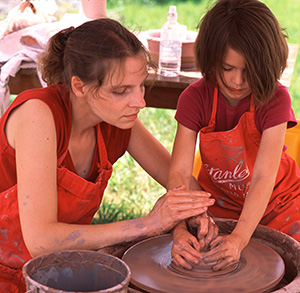 MONSON POTTERY WORKSHOP
Pottery is great fun for all ages. I teach Adult Education classes through the Piscataquis Valley Adult Education Cooperative and local kids, 7-12 year olds and teens, through the Monson Recreation Committee. I also teach private classes. The workshop has four potter's wheels, an electric kiln, a raku kiln, a slab roller and an extruder.
A minimum of two classes is necessary in order to finish and take home a piece of work. In the first class, the clay form is created. The clay then needs to dry before it can be fired in the kiln. The kiln takes 20 hours. In the next class, the piece can be glazed. Then it takes another 20 hours in the kiln before it is ready to be collected.
One 2 hour workshop costs:
$60 for one person
$80 for two people
$100 for four or more people
Throwing clay can be messy so please wear sensible clothing and tie long hair back.
All workshop participants must clean up their workstations.
To book a workshop or for further information, please e-mail jemma@jemmagascoine.com or call 207 370 7099.